February 23

18:00-19:00

Opening Ceremony
February 24

13:30-14:30

Cross-Country Sprint L/M Qual Free

15:00-17:15

Cross-Country Sprint L/M Fin Free

19:30-20:00

Medal Ceremony
February 25

12:30-13:30

Ski Jumping HS106 Qual M

15:00-16:30

Ski Jumping HS106 Ind L

19:30-20:00

Medal Ceremony
February 26

10:00-11:00

Nordic Combined Ind HS106

11:30-12:30

Cross-Country 15km Pursuit L

13:00-13:45

Nordic Combined 10km Ind

15:00-16:45

Ski Jumping HS106 Ind M

19:30-20:00

Medal Ceremony
February 27

12:00-13:30

Cross-Country 30km Pursuit M

15:00-16:45

Ski Jumping HS106 Team M

19:30-20:00

Medal Ceremony
February 28

11:30-12:30

Nordic Combined Team HS106

13:00-14:15

Cross-Country 10km Ind L Cl

15:00-16:15

Nordic Combined Team 4x5km

19:30-20:00

Medal Ceremony
March 1

13:00-14:30

Cross-Country 15km Ind M Cl

19:30-20:00

Medal Ceremony
March 2

11:00-12:00

Nordic Combined HS134 Ind

12:15-14:00

Cross-Country Team Sprint Qual M & L Cl

14:15-15:15

Cross-Country Team Sprint Fin M & L Cl

16:00-16:45

Nordic Combined 10km Ind

18:00-19:00

Ski Jumping HS134 Qual M

19:30-20:00

Medal Ceremony
March 3

14:00-15:00

Cross-Country 4 x 5 km Relay L

17:00-19:00

Ski Jumping HS134 Ind M

19:30-20:00

Medal Ceremony
March 4

11:30-12:30

Nordic Combined Team HS134

12:45-14:30

Cross-Country Relay 4x10km M

16:00-17:15

Nordic Combined Team 4x5km

19:30-20:00

Medal Ceremony
March 5

12:00-13:30

Cross-Country 30km Mass st. L Free

15:30-17:15

Ski Jumping HS134 M Team

19:30-20:00

Medal Ceremony
March 6

13:00-15:30

Cross-Country 50km Mass st. M Free

15:30-16:00

Medal/Closing Ceremony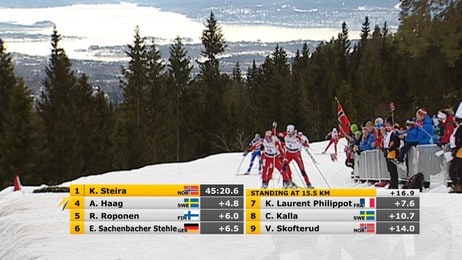 NRK Host Broadcaster timing points and camera positions are planned to create identity and provide scenic views.
Foto: Videoprint/NRK
NRK Host Broadcaster updated camera plans are now available for PDF download. The files include maps in a new design based on aerial photos, produced for the Broadcasters Handbook.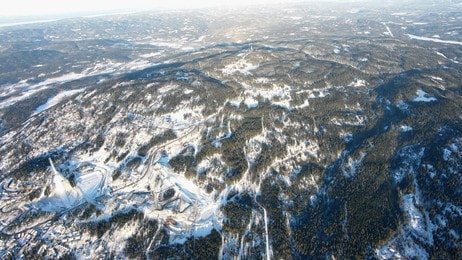 The Holmenkollen ski arena with the two ski jumps, the cross-country stadium, the IBC and the outer ski tracks. (Click to change photo)
Foto: Knut Bjerkan/NRK
On a cold and clear early December day, NRK Host Broadcaster staff flew over the Holmenkollen arena in helicopter to shoot photos and videos of the facility. See still and live pictures from the flight here!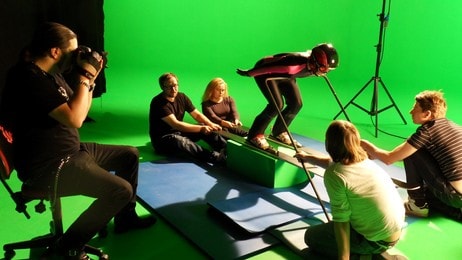 Opening animation photo session. (Click photo to change picture)
Foto: Margareth Johansen, NRK
The opening animation to be used in the Host Broadcaster international transmissions is now in production, after months of idea development and preparations. The animation features 3D projected stills photos of professional young athletes.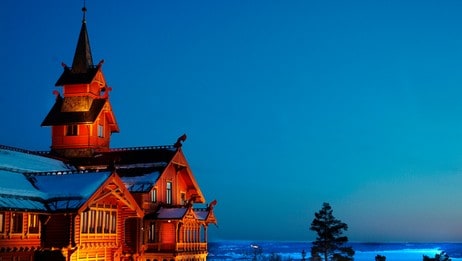 One of the two accreditation centres will be located at Holmenkollen Park Hotel next to the NWSC venue.
Foto: Holmenkollen Park Hotel Rica
The accreditation registration system for rights holding broadcasters is now available online. All companies have received an individual log-in from Ski-VM 2011. Deadline for accreditation is 3 December 2010, but changes and updates in the database can be made by each broadcaster until 15 January 2011.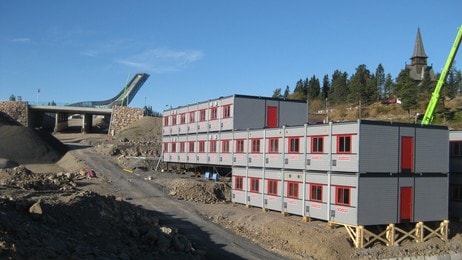 Picture gallery of the IBC construction (click to change photo).
Foto: Margareth Johansen/NRK
Construction of the International Broadcast Centre being built for the 2011 Nordic World Ski Championships is moving fast ahead. Watch video and pictures of the mounting operations here!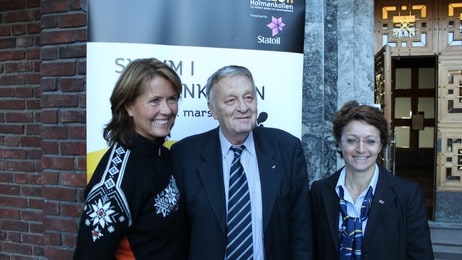 Åsne Havnelid (left), CEO Oslo2011, with Gian Franco Kasper, FIS President, and Sarah Lewis, FIS Secretary General, during the final FIS inspection in Oslo.
Foto: Christian Ruscetta/Ski-VM 2011
Key persons from the International Ski Federation came to Oslo for the final official inspection, 139 days before the opening of the Nordic Ski World Championships.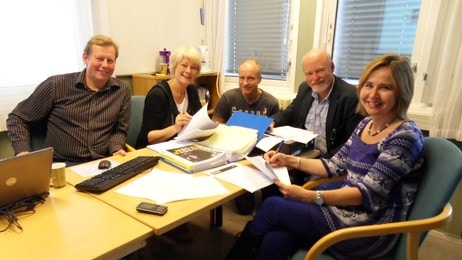 Broadcasters have submitted their bookings for the Nordic World Ski Championships 2011. The crew going through the order forms are (from right): Helene Amlie, Petter Lunde, Kay Sundberg and Åse-Marie Hauan from NRK Host Broadcaster, and consultant Jakob Bjurström (far left).
Foto: Odd Kaldefoss/NRK
15 September was the rights holding broadcasters' deadline for booking of facilities and services during the FIS Nordic World Ski Championships next year. NRK's Host Broadcaster crew members are now in full swing to confirm all bookings before 1 October.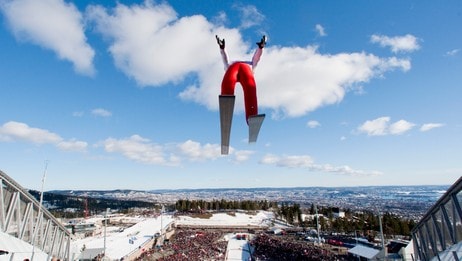 Broadcasters' booking of facilities and services at the 2011 Nordic World Ski Championships should be landed before 1 September 2010.
Foto: Lien, Kyrre/Scanpix
15 September 2010 is the rights holding broadcasters' deadline for submission of the Order Form as well accreditation applications and booking of hotel rooms.
Downloads
Download PDF files of useful information:
Daylight in Holmenkollen
Local time/CET
= UTC/GMT +1

23 February 2011:
Sunrise 07:37
Sunset 17:28
Hours of sunlight: 09:51
6 March 2011:
Sunrise 07:05
Sunset 17:56
Hours of sunlight: 10:51

Source: http://sun.exnatura.org