Experience surround sound from NRK!
About 5.1 formats and streaming
This is a short introduction to 5.1 audio and how to use it by streaming or downloading from this web site.
Publisert 07.03.2008 17:33.
View the Multichannel 5.1 site - English version!
What is multichannel sound and how does it work?
Multichannel sound, also known as digital surround sound 5.1, is an audio format where the sound is divided into six discrete channels, left front, right front, center, left rear, right rear and LFE (which is the subwoofer channel mainly designed for low frequency sounds).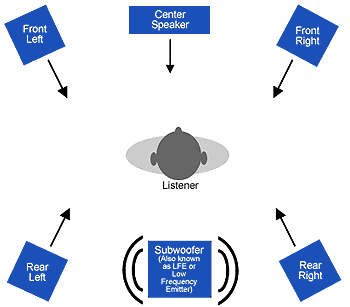 Compared with traditional two channel stereo this format gives sound engineers and artists the freedom to spread out the soundstage around the audience. You are probably already familiar with these terms if you`ve got a home theatre system and a dvd-player.
NRK's multichannel productions can be downloaded as DD (Dolby Digital) or DTS (Digital Theater System) files, which are the two most common digital multichannel formats at the moment. DD we offer in 448 or (some productions) 640 kb/s quality, DTS in 1,234 or 1,536 Mb/s quality. For more information please explore the Dolby Digital and DTS homepages.
You can also listen to the multichannel sound directly by streaming it with Windows Media Player 9 or higher. Check information below.
What do I need for downloading?
You need a CD or DVD player with a digital output, and a home theatre system with a receiver which decodes DD and/or DTS, depending on the file you want to download.
In order to get the best performance, we recommend that you have five complementary loudspeakers and a subwoofer.
However, you can play back multichannel sound without center channel or sub woofer too. Please check the receiver manual for further details.
Download the file of your choice and unzip it. You now can burn an Audio CD (with DD and DTS 1,2) or a DVD (with DTS 1,5) and play it back on your home theatre system. Please note that some CD/DVD-players don`t play CD-R records. DVD-players which decode DTS directly, will not play the file because it's in .wav-format; connect to your home receiver digitally and it will work.
You may also play the file directly from your computer, if your soundcard is digitally connected to the receiver or a separate decoder. Make sure the sound card is set to pass digital signals through.
NB! The unzipped wav.-file contains no sound, but digital signals. Never play the file with your standard CD player or your standard PC sound system. It will play pink noise and may - on high volume - damage your speakers!
To test downloading and your sound device, you can download these test files (9 minutes with speaker signals to control speaker wiring and position):
5.1 TEST DolbyDigital 448 kb/s
(30 MB)
5.1 TEST DolbyDigital 448 kb/s
(85 MB)
How do I listen to multichannel streaming?
If you have a computer 5.1 sound system, or if your multichannel soundcard is connected to a home theatre receiver (by analog outputs/inputs), you can also play back multichannel streaming directly from the internet. Simply doubleclick the file. Make sure you have the Windows Media Player version 9 or higher - you can download it for free from Microsoft. If you do not have a computer 5.1 sound system, you will hear the piece in stereo (no guarantee for best performance).
To test your streaming configuration, use this test file (plays for 9 minutes):
View the Multichannel 5.1 site - English version!
Enjoy your multichannel sound experience, send an e-mail with feedback or use our feedback template!
Lyd og video
Se også
Lenker